Le développement de filières locales est-il gage d'une écologisation des pratiques agricoles ?
According to the literature on short local food systems, the direct relationship between consumers and producers triggers a virtuous circle that relies upon shared trust. What happens when the relationship is no longer direct but mediated by a small number of intermediaries? Socio-technical processes of changing agricultural practices are questionned by analysing the emergence of two local food chains in the Auvergne Rhône Alpes region: local soybean and minced steaks. Enrollment in a local food chain does not necessarily imply that producers adopt more agro-ecological practices. Nonetheless practices considered as environmental friendly are valued by local food chains. Sociotechnical objects or food chain governance have the potential to question farmers practices and invite to move the focus on long term learning processes.
Selon la littérature sur les circuits courts, la relation directe entre consommateurs et producteurs enclenche un cercle vertueux de confiance partagée. Qu'advient-il lorsque la relation n'est plus directe mais médiée par un petit nombre d'intermédiaires dans des filières qui revendiquent une dimension locale ? L'analyse de la mise en place de deux filières de la région Auvergne-Rhône-Alpes, soja local et steaks hachés, nous permet de saisir les processus socio-techniques fins d'écologisation des pratiques agricoles. La construction de ces filières locales, dans leur phase d'émergence, n'entraine pas d'écologisation des pratiques mais valorise des pratiques jugées plus écologiques. En l'absence des consommateurs dans la gouvernance de ces filières, les objets techniques mobilisés ou la gouvernance mise en place ont la capacité de réinterroger les pratiques des agriculteurs et invitent à placer la focale sur les apprentissages dans le temps long.
Fichier principal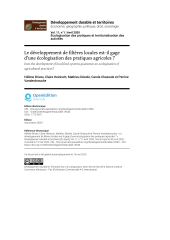 developpementdurable-16546.pdf (244.72 Ko)
Télécharger le fichier
Origin : Files produced by the author(s)